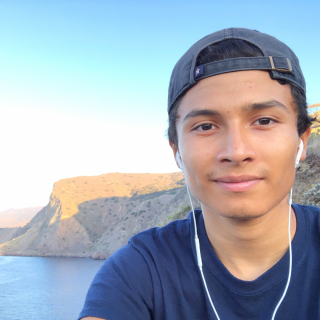 Noe Castañeda
Ph.D. Student
Email:
ncastaneda@ucsb.edu
Education
B.S. - 2019 - UC Santa Cruz
Biography
Noe graduated with a B.S. in Marine Biology from the University of California, Santa Cruz in 2019. He worked with Dr. Rita Mehta on several projects looking at feeding kinematics, morphology and ecology of reef fishes. During my Wrigley Coastal Ocean Processes REU in Summer 2018, he conducted an independent research project looking at the influence of morphology and algae on the feeding success of the Giant Kelpfish around Catalina Island. Noe joined the Burkepile lab in 2019 and is a National Science Foundation, Graduate Research Fellow.
Research Area
Noe is currently interested in the feeding interactions of reef fishes considering morphological and behavioral variation at the species and individual level to understand the indirect effects on marine community structure. He hopes to examine this variation among predatory and herbivorous fishes in both tropical and temperate marine habitats to learn more about the differences in food web structure and the importance of individual level traits.