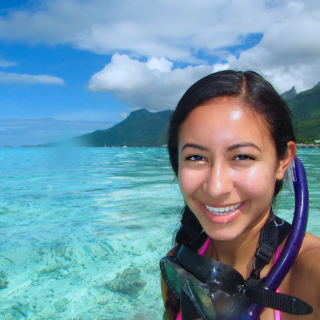 Nury Molina
Ph.D. Student
Email:
nurymolina0@gmail.com
Education
Biography
Nury received a B.S. in Environmental Science with a minor in Conservation Biology from UCLA where she worked in Dr. Peggy Fong's lab examining the preferences of herbivorous fish species for different macroalgal species in Mo'orea. As an undergraduate researcher in The Diversity Project, she studied different methods used to conduct herbivory assays in coral reefs, which developed her interests in coral reef ecology. As a NOAA Dr. Nancy Foster Scholar, she will complement her research on coral reefs in the American Samoa National Marine Sanctuary with reefs in Mo'orea, French Polynesia.
Research Area
Nury's Ph.D. research will focus on herbivorous fish and how their consumption of algae contributes to coral reef resilience.