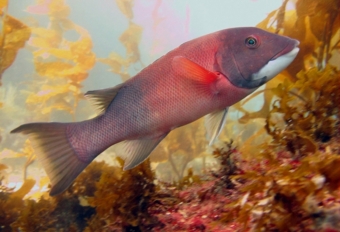 Predator Versus Prey
A sex-changing fish called California sheephead (Semicossyphus pulcher) plays a vital role in the food web of kelp forests along the Pacific coast. Commonly found in the waters from Baja California to Point Conception — although they can sometimes be found as far north as Monterey Bay — sheephead feed on sea urchins, whose grazing habits can wreak havoc on community composition in kelp forests.
A new study by UC Santa Barbara research biologist Jenn Caselle uses data from three decades of research to document differential exploitation and recovery of sheephead populations in the Santa Barbara Channel in response to marine reserves and fishing regulations. Her research on sheephead appears today in the Proceedings of the Royal Society B: Biological Sciences.
- See more at: http://www.news.ucsb.edu/2014/014640/predator-versus-prey#sthash.3Hg6GfJy.dpuf
Related Links