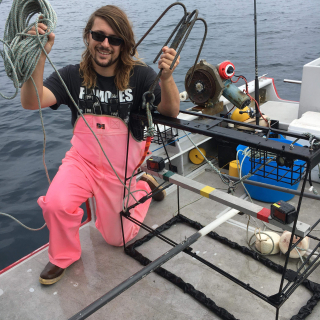 Conner Jainese
Graduate student researcher
Email:
connerjainese@ucsb.edu
Office:
3011 Marine Science Building
Education
B.S.Aquatic Biology, U.C. Santa Barbara
Research Area
Conner graduated from UC Santa Barbara in 2015 with a B.S. in Aquatic Biology. He is currently a Master's student in the Caselle Lab, researching fish communities in and around Marine Protected Areas in the Santa Barbara Channel using baited remote underwater video (BRUV) systems. This BRUV work specifically focuses on monitoring and evaluating the effectiveness of Marine Protected Areas on mesophotic rocky reef fish populations. Past research includes studies of fish and invertebrate communities on/around offshore oil infrastructure and the identification of individual giant sea bass (Stereolepis gigas) along the California coast, based on unique spot patterns, for the purpose of better understanding their movement and population dynamics. Conner is also an avid angler and SCUBA diver, for fun and for science.