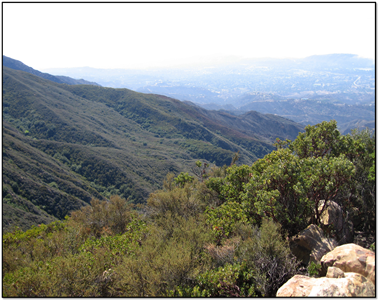 As part of a larger scale study of watershed responses to high intensity landscape fire, we are evaluating soil nitrogen dynamics in the Mission Canyon and Rattlesnake Canyon watersheds, which are regularly monitored within the Santa Barbara Coastal Long Term Ecological Research (SBC LTER) network. Both watersheds burned intensively in the May 2009 'Jesusita Fire'
One of the major effects of fire on biogeochemical processes is on nitrogen mobilization, initially from plants through combustion, but later from soils through diminished plant and microbial uptake. Assessing N loss following fire in chaparral ecosystems requires measurement of changes in both the microbial processing of N and links to hydrological processes that move N into ground and surface waters.
Nitrogen dynamics are being sampled via in-situ field-incubation cores.We are comparing our findings with N export from streams that are regularly monitored in the LTER network. We are also using the Regional HydroEcological Simulation System model (RHESSys) to evaluate how fire regimes influence N cycling and retention in our study watersheds.