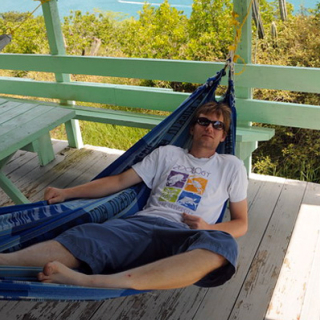 Todd Oakley
Professor
Email:
oakley@lifesci.ucsb.edu
Office:
4101 Life Sciences Building
Education
Ph.D., Duke University
M.S., University of Wisconsin-Milwaukee
B.S., University of Wisconsin-Milwaukee
Bio
Todd Oakley is an evolutionary biologist and professor in the EEMB Department at the University of California, Santa Barbara. Dr. Oakley earned a BS and MS from the University of Wisconsin-Milwaukee and his PhD in Biological Sciences from Duke University. He was an NIH-NRSA postdoctoral fellow at the University of Chicago. He joined the EEMB faculty in 2003. Dr. Oakley currently serves as Vice Chair of resources for EEMB, and he is a member of UCSB's Marine Science Institute. He is the PI or Co-PI on multiple federally funded research projects in evolution, ecology, and genomics.
Research
Origins of Vision and Light Interaction G
enes 
Eyes and vision are often considered mind-bogglingly complex, begging the question of how evolution could have produced them. We are addressing this question by examining the components of eyes and vision in a phylogenetic context, to trace those components to their very origins. This has led to behavioral studies in Cnidaria and a chytrid fungus.
Evolution of Arthropod Eyes 

Arthropods have more types of eye design that any other phylum. How and why did this diversity arise? We are combining a variety of tools and approaches from high throughput sequencing to phylogenetics to behavioral studies in order to understand how there is so much variation in arthropod eyes. In particular we are studying ostracod crustaceans, including a group where only males have eyes.
Evolutionary

G

enomics

of

M

olluscan

 Novelties 




Evolutionary convergence provides an element of replication within the singular history of life, and can yield insight into the most general evolutionary questions. Do convergent traits utilize the same genes? We are examining these types of questions in mollusks like octopus, squid, and chitons. Cephalopods evolved convergent light organs, and chitons convergent eyes.
Phylogenetics and Ecology

The world is characterized by a spectacular variety of life. But loss of biodiversity through extinction is one of the most pronounced forms of environmental change. Through collaboration, we are examining differences in gene expression when algae are grown alone, compared to in competition. Our goal is to understand the genetic basis and phylogenetic correlates of competition, and to use that information to inform algal biofuel production.
News
External Publications List
Google Scholar