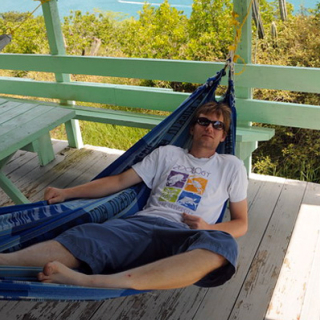 Todd Oakley
Professor
Email:
oakley@lifesci.ucsb.edu
Office:
4101 Life Sciences Building
Education
Ph.D., Duke University
M.S., University of Wisconsin-Milwaukee
B.S., University of Wisconsin-Milwaukee
Bio
Todd Oakley is an evolutionary biologist and professor in the EEMB Department at the University of California, Santa Barbara. Dr. Oakley earned a BS and MS from the University of Wisconsin-Milwaukee and his PhD in Biological Sciences from Duke University. He was an NIH-NRSA postdoctoral fellow at the University of Chicago. He joined the EEMB faculty in 2003. Dr. Oakley currently serves as Vice Chair of resources for EEMB, and he is a member of UCSB's Marine Science Institute. He is the PI or Co-PI on multiple federally funded research projects in evolution, ecology, and genomics.
Research
Evolution of Bioluminescence 

Bioluminescence has evolved over 40 times independently in marine systems. We use the diverse, bioluminescent mating and defense displays of Carribean ostracods to understand the molecular basis of bioluminescence and how bioluminescence contributes to speciation.
Convergent Evolution

The repeated evolution of similar features is akin to experimental replicates that can be used to understand general features of evolution, what is predictable, what is unpredictable, and what depends on a specific historical pathway.
Origins of Vision and Light Interaction G
enes 
Eyes and vision are often considered outlandishly complex, begging the question of how evolution could have produced them. We are addressing this question by examining the components of eyes and vision in a phylogenetic context, to trace those components to their very origins, perhaps as induced and evolved responses to photo-oxidative stress.
Evolution of Arthropod Eyes 

Arthropods have more types of eye design that any other phylum. How and why did this diversity arise? We are combining a variety of tools and approaches from high throughput sequencing to phylogenetics to behavioral studies in order to understand how there is so much variation in arthropod eyes. In particular we are studying ostracod crustaceans, including a group where only males have eyes.
 

News
External Publications List
Google Scholar