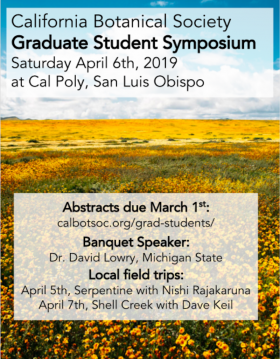 We've just returned from the 2019 Graduate Student Symposium of the California Botanical Society, held at California State University, San Luis Obispo (Cal Poly), where Natalie Love and Kris Peach delivered super-engaging talks about their dissertation research. 
Kris Peach reported the results just published in the American Journal of Botany:
Peach, K., and S. J. Mazer. 2019. Heteranthery in Clarkia: pollen performance of dimorphic anthers contradicts expectations. American Journal of Botany 106(4): 1–6.